PHILADELPHIA -- The federal government's efforts to implement national healthcare reform are being greatly complicated by a legacy of state-based insurance regulation. The battles to define exactly what medical conditions, procedures or services insurance companies must cover -- the "essential benefits" have long been matters of the statehouse politics that created more than 1,600 different laws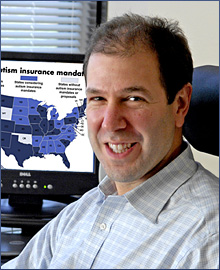 Alternative content
Autism researcher and University of Pennsylvania psychiatry and pediatrics professor David Mandell notes insurers' reluctance to cover certain essential benefits related to autism.
across the country. For instance, Iowa has 17 essential benefits mandates; Rhode Island has 70. Some legislatures require the coverage of services like in-vitro fertilization, chiropractic care and behavioral therapies for autism and some do not.
Widespread uncertainty
Some of this variability will remain untouched in the first two years of implementing the Affordable Care Act's essential health benefit package. The end result will be a patchwork of differing offers and widespread uncertainties. Many interest groups are as confused as they are unhappy about this, particularly advocates of issues like autism who have waged protracted political battles to secure previously denied coverage.
Assuming it is upheld by the Supreme Court, the ACA establishes broad categories of essential health benefits that must be included in policies sold to individuals or small groups. (Large employers and "grandfathered" plans will not be subject to essential health benefit mandates). The law left it up to the Secretary of Health & Human Services (HHS) to define the exact details of that benefits package. But she didn't. Instead, in December 2011 Secretary Kathleen Sebelius announced an interim policy that allows each state to "benchmark" its own essential benefits package to one of several existing employer-based insurance plans.
"We want to take advantage of plans that were in the market, were purchased, were priced, and could be up and running as we start this process," Sebelius explained to Congress in February.
'Violates Congress' directive
That unexpected move spawned controversy. The National Association of Community Health Centers objected and said the action "violates Congress' directive to the Secretary to establish essential health benefits, and also runs counter to Congress' intent to create a uniform federal core of benefits to be offered by [qualified health plans]."
The National Council of State Legislatures (NCSL) noted its satisfaction that Sebelius' plan "provides options that will allow states to maintain their
Related Items
And Benchmark Options for States
Medical and Nonmedical Annual Costs Up To $72,000
New Study by Penn's David Mandell
Insurance Coverage for Autism
Essential Health Benefits Bulletin
Essential Health Benefits Brief
Essential Health Benefits
Essential Health Benefits
existing state mandated benefits without creating a budget liability in 2014 and 2015, providing states an opportunity to review their mandated benefits."
The bottom line is that by September, each state must select a benchmark plan for essential benefits offered to individuals and small groups in 2014 and 2015.
The ACA does not directly preempt any of the existing local mandates, but it does require states to pay the costs of state-mandated benefits that are not included in the benefits package offered through the subsidized insurance exchanges.
Financial disincentives
This creates potential financial disincentives that have advocates scrambling to ensure that their existing mandated benefits are part of the new benchmark packages in their state. Conversely, legislators are worried that their state will be stuck with the cost of subsidizing these mandates when the HHS re-evaluates the interim essential benefits policy in 2016.
At that point, HHS might follow the Institute of Medicine's recommendation that "current state insurance mandates -- requirements that had previously been established by state law -- should not automatically be included in the EHB package but reviewed in the same way as other potential benefits."
One of the interest groups keeping a close watch on these developments is America's autism advocates. In recent years, they've scored high-profile successes in 30 legislatures that have mandated coverage for behavioral therapies for autism, albeit with different frequency and monetary limits.
Reluctant insurance industry
Autism researcher and University of Pennsylvania psychiatry and pediatrics professor David Mandell pointed out that the insurance industry has been reluctant to voluntarily offer such coverage. Some providers, meanwhile, suggest that up to 25 hours a week of intensive behavioral therapy is needed and should be covered.
"The thing that scares the insurance companies is the number of hours we're talking about," said Mandell. "There's no defined end for the course of treatment. They want to know how we put some boundaries around this benefit?"
With New Jersey having the highest rate of autism in the nation, Sen. Robert Menendez (D-NJ) is a well-known advocate for coverage of autism treatments. As a member of the Senate Finance Committee, he
Watch a 2:42-minute video of Penn's David Mandell discussing how insurance companies may 'game' the system to avoid certain types of autism coverage.
pushed through an early amendment to the ACA to include behavioral health services as part of the ACA-defined essential health benefits package. In a Congressional hearing in February, he noted the deficiencies of the current "patchwork" of state autism coverage mandates and exemptions. "I know I am not alone in the serious concerns that the benchmarking plan is insufficient to ensure that behavioral health coverage would be available as the law dictates it to be."
Pennsylvania autism mandate
Mandell is a veteran of the battle to mandate autism coverage in Pennsylvania. In 2009, the state passed one of the most generous insurance mandates in the country, with a $36,000 cap per year on services for autistic individuals up to age 21, and no lifetime limit. He cited two possible changes to autism mandates based on the ACA.
First, he noted that the ACA prohibits annual and lifetime dollar limits on services as of 2014. For states with specific dollar caps on specific autism treatments, "It's not clear that you'll be able to maintain an expenditure cap for a service you offer." For example, Florida's mandate includes a $200,000 lifetime limit on autism treatments.
He sees even more possibilities for ACA to improve coverage for autism treatment based on how HHS defines the required category of "habilitative services." Generally, these are services that help patients achieve new life skills, as opposed to rehabilitative services, which restore functions that have been lost. In February 2012, HHS advised that three categories of benefits -- pediatric oral services, pediatric vision services, and habilitative services -- were generally not included in benchmark plans and would have to be added by the states. Guidance on exactly how to do that is still pending.
Mandates may be moot
"The mandates in some ways may be moot...if states all include habilitative services in their package, and include them in an intensity that is appropriate for these kids," Mandell suggested. "The thing is, insurance companies are already selectively providing [habilitative] services, like speech therapy and physical therapy."
The states are hedging their bets in recently passed mandates. A number have specifically addressed the uncertainty of how a state mandate would interact with the ACA's essential benefits package. For example, Arkansas' new autism mandate, effective October 2011, caps benefits for applied behavioral analysis at $50,000 and applies an age cap of 18 years old. It specifically states that "To the extent that this section requires benefits that exceed the essential health benefits [it] shall not be required of a health benefit plan when the plan is offered by a health care insurer in this state through the state (insurance) exchange." However, the mandate would continue to apply to plans offered outside the state insurance exchange, which presumably would not be subsidized. California and Rhode Island have put similar provisions into their recent mandates to ensure that the state would not be footing the bill in 2014.
One thing the states cannot do, however, is to pass new mandates in an effort to have them included in the essential health benefits package. By regulation, any state mandate enacted after December 31, 2011 cannot be part of the state's package in 2014 or 2015.
State benchmark plans
Already, a few states have selected their benchmark plans. In California, the health committees in both the Senate and Assembly passed legislation to select the Kaiser small group HMO plan as its benchmark for 2014. The author of the bill in the California Senate, Democrat and optometrist Ed Hernandez, noted that the selection "recognize[s] the importance of existing state-mandated benefits and incorporate[s] as many state mandates as possible."
In March, Washington became the first state to select its benchmark, directing its insurance commissioner to choose the largest small group plan by enrollment. That choice should make the state mandates part of the essential benefits package for 2014 and 2015, but lawmakers are taking no chances with the state budget in the future. The fate of each mandate rests on whether it imposes costs on the state, and whether the state is willing to appropriate funds to cover the benefit for health exchange enrollees. If it's not willing, then the mandate will not be enforced for any plan in the market.
~ ~ ~

Janet Weiner, MPH, is Associate Director for Health Policy at the Leonard Davis Institute of Health Economics within the University of Pennsylvania. She holds a journalism degree from Northwestern University, a masters degree in public health from Johns Hopkins University, and is currently a doctoral candidate in City and Regional Planning at Penn. weinerja@mail.med.upenn.edu
blog comments powered by